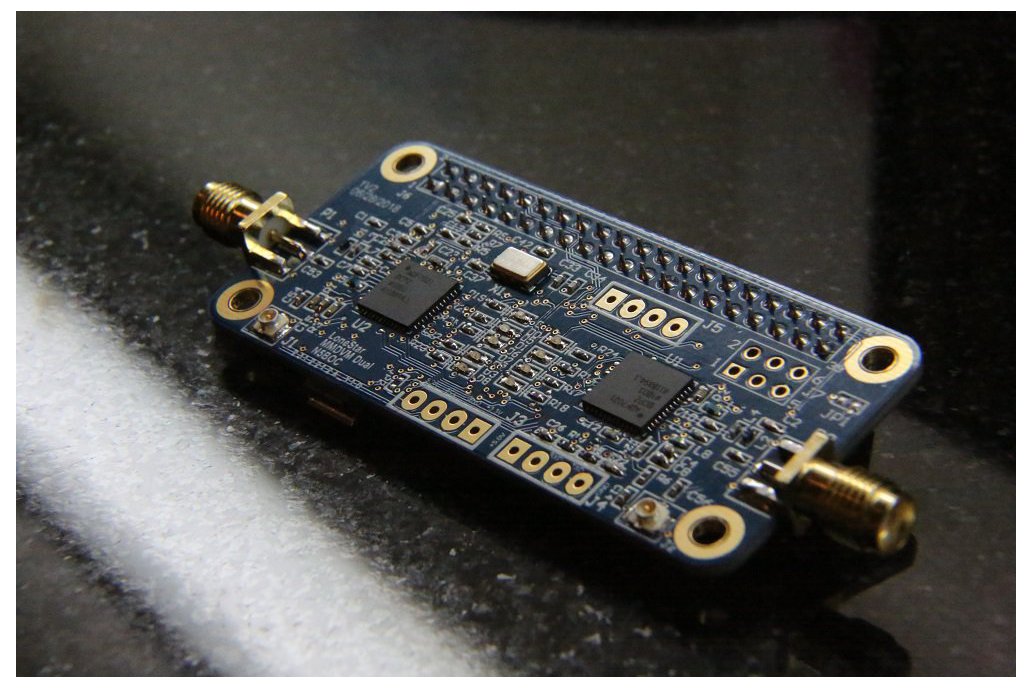 What is it?
This is a Duplex Multiple Mode Digital Voice Modem in a Raspberry Pi Zero HAT form factor. While there are other versions of this type of Duplex board on the market this is the ONLY one which keeps the Pi Zero form factor that has become so popular. This will enable you to keep the portability of the MMDVM_HS_HAT while at the same time allows you to enjoy the benefits of a DUPLEX board. For DMR this means it can have QSO's happening on both time slots.
Why did you make it?
I found the DUPLEX boards to have many advantages but all the boards that seemed to be available were made for the full size Raspberry Pi. While this is fine for use at home it was not the cool, compact form factor of the Pi Zero that is easy to travel with or easy to throw in a back pack.
While it is a lot of electronics to pack into a small space I knew if I had enough tenacity I could find a way to pack it all in. And here it is today!
What makes it special?
This board was designed by myself and all boards are fully assembled here in the great state of Texas using only the highest quality components. This can make a big difference to you. For example this board uses an ECS brand TCXO purchased from Mouser in Mansfield Texas. ECS is known for their quality of oscillators and this one is no exception. They are consistently on frequency with a very low drift over temperature. What this means to you is you will not be hunting for hours trying to find the correct offset that enables the board to hear your radio. These usually require an offset of less than 500 counts. Each board includes documentation of the offset used during final test.
Much care was taken during the design and layout of this board. This board is built on a 4 layer Gold Plated PCB which is 1.6mm thick. The gold plating give the best solder adhesion ( no pesky cold solder joints ) and makes the board more resistant to oxidation for the absolute highest possible reliability. The inner layers are solid POWER and GROUND planes. This is important because it makes the receiver more immune to noise and therefore more sensitive. This also allows every component on the board to have a very low impedance path to either the +3.3V rail or GND which also improves the noise immunity. Lastly the plane layers being the inner layers act as one VERY LARGEdecoupling capacitor which makes this board much more immune to voltage glitches on the power supply.
Features:
This board is compatible with both the very popular 1.X" OLED display or the Nextion LCD display. And the best feature of all is this board also implements 2 u.FL connectors. These small RF connectors open up lots of antenna mounting options. Very short u.FL to SMA pigtails are available. With these you can mount the SMA connector anywhere on your case.
Options:
Because this is an expensive board to build, (double sided means almost double the cost to populate) I have tried to keep the cost down. One part of that is to make some features optional. This allows HAMS that don't need these options to pass on them and save themselves some Doe Ray Me in the process.
USB Option: Sorry No Longer Offered This option frees this board from the requirement to be used as a PI hat. Using USB you can attach this board to the USB port of the PI or really any computer that can run Pi-Star. This opens up other mounting and case options for the board. There are lots of Single Board computers out there and this allows you to explore other possibilities.
*Why is this not included on every board? * I'm glad you asked this question. This does add a somewhat expensive connector and a few other components to the board. Few HAMS will end up using this so I've made this an option. Since only a few will use this why ask everyone to pony up for this connector? It is a nice feature that I wanted to still make available. So the option is yours!
Dual ANTENNA Option: My previous board included a 432 MHz ceramic antenna on the board. But that is not possible to implement on this duplex board. An off-board antenna is a requirement. So I felt I needed to source an external antenna for this board. I wanted to make this easy for my customers and not send them off searching the WEB and Ebay for an antenna that may arrive 1 month after their board. However sourcing a low cost antenna has proven to be somewhat difficult. It is harder than I thought. What was available last month is not always available this month. So since this may change from month to month and also the cost to me may change, I decided to break this out. This option reflects the cost of these components to me. I am passing these on to you at my cost. ( I'm not in the antenna business )
Case:
I worked closely with C4Labs to help them produce one of their excellent cases.
It can be found here… https://www.c4labs.com/product/zebra-duplex-pi-zero-screen-case-raspberry-pi-zero-zero-w-mmdvm-duplex-color-and-top-options/
Also cases are being made for this board by Paul Lamhut (WB2HHH)PLA BASED CASE for DUPLEX BOARD
For pricing and to order contact Paul at [email protected]
LEDs on Board:
Because the PCB is so packed there is not room to label the LEDs. So you can follow this link to PDF that illustrates what each LED is indicating. Dual Board with LEDs Labeled
MODEM Selection:
The most common question I get is which modem do I select from inside of Pi-Star. You should pick… MMDVM_HS_DUAL_HAT
Much more detailed instructions can be found here… DUPLEX Board setup instructions